| | |
| --- | --- |
| | Everything you would look for in a place to learn to ride, or care for your horse, and collaborate with you in the training of your own horse is available at Advantage Ranch. |
BOARDING
ADVANTAGE RANCH offers the finest in modern facilities and equipment for both your horse and you! The farm is set on 350 acres in the beautiful mountains north of Blacksburg.

For your horse's comfort, we have a 33-stall barn, an indoor riding arena, a large outdoor arena, a wash rack with hot and cold water, and miles of riding trails.

For your convenience, we have 4 tack rooms, public restrooms, and a meeting room and lounge with wireless internet access for reviewing mounted footage or simply relaxing after a great ride.

Boarders at ADVANTAGE RANCH can choose from two different stall board options or pasture board, each detailed below. Regardless of which board option chosen, the following elements are a standard part of the care provided to any horse on the farm.


Excellent veterinary services on call.
Weekly On-Site Farrier services.
Superior feed options available.
Daily visual health check by one of our trained staff.
Indoor and Outdoor Arenas open, except when there are schedule special events.

Please call for availability

ADVANTAGE RANCH is a semi-private barn and preference is given to those participating in our community, learning opportunities and retreats. We believe that a good fit is essential to both the business and our clients. As such, please contact us so that we can get to know one another and explore the possible options regarding boarding.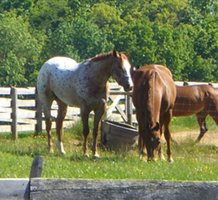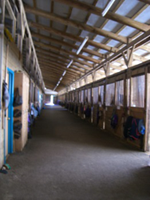 Pasture Board:
This option is perfect if your horse is happy living outside year round in a field that hosts a natural pond and plenty of grass.*

Full Care Stall Board:
For when your horse is happier being able to stay in a stall when you choose, but doesn't mind going out when the weather is nice. This is also the right choice if you would like the option to add one of our A La Carte services to your horse's care.

Premium Full Care Stall Board:
This is, just as the name suggests, our premium care. This option is perfect for maintaining a show level horse, with the A La Carte options of a custom feed package, individual turnout, blanketing, and special supplements included.


| | | | |
| --- | --- | --- | --- |
| | Pasture Board | Full Stall Board | Premium Stall Board |
| Box Stall | | Included | Included |
| Crimped Oats | | Included | Included |
| Leave In | Medical Only | Included | Included |
| Custom Feed Options | | Available | Included |
| Blanketing | | Available | Included |
| Individual Turnout | | Available | Included |
| Grooming and Exercise Packages | | Available | Available |
| Stall Lights | | | Available |



*During the winter months, free choice hay is available at all times in the pastures and the water is checked daily to ensure adequate access.


| | |
| --- | --- |
| | |